INDIA PROJECT - (2016-17)
UPDATE on the collaboration of our La Crosse Rotary Club and Valley View Rotary Club supporting a secondary school -

Sanitation and Menstrual Health Management Project.

(The project site is in a small rural village located in TamilNadu, South India. The project will address the following sanitation needs: to help build toilet blocks for 745 students and 18 teachers at Pattamadai Ramaseshier Secondary School; to provide basic Menstrual Health Management for 253 girls at Ramaseshier School; to provide 1 incinerator and maintenance for disposal of used sanitary napkins and to train school maintenance worker for the incinerator.)
Note from Sandra LeGrand, Valley View Rotary Club.....
Thanks again from Rotary of Tinneveli.
DOUBLE FINE MONTH BENEFITS NEW HORIZONS IN LACROSSE - (2016) September was double fine month during Rotarians in the News. Thanks to the generosity of our membership we collected $600 to donate to a great cause...New Horizons in La Crosse.
A PALLET OF PAMPERS - (2015)
In July 2015 the project,
A Pallet of Pampers
was born. This project is a glowing example of the power of Rotary and how one idea from one person can grow and quickly impact a community. When Rotarian Peter Krause saw a story about The Parenting Place's diaper drive appeal he thought two things: the first, no child in our community should be without clean diapers and the second, Rotary can be a part of the solution. Peter called Dean Dickinson to propose a project, raise enough money from club members to purchase a pallet of pampers to donate to The Parenting Place who in turn will distribute to parents in need. Dean said "yes" and got to work pricing diapers. At the first announcement to the club about the project a third Rotarian realized he could help. Craig Ubbelohde offered to use his purchasing power through the nursing home to buy diapers at price far below what was being found elsewhere. In the end, the combined efforts to Craig, Dean, and Peter and club members' donations of $2,000 turned a one pallet-goal to a three pallet-reality. In just about 5 weeks a plentiful supply of over 13,000 diapers was delivered to The Parenting Place. Staff passed on these diapers to families daily making a difference in families lives by reducing parental stress and improving infant health and well-being.
Click to view photos.
WINE INTO WATER FOR UGANDA - (2012)
In January of 2012, Jenny Parker, from the Tomah Rotary Club and in partnership with the World Community Service Committee of La Crosse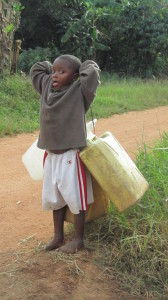 Rotary, approached the La Crosse Downtown Club with an opportunity to join forces for an international water project in Uganda. Once implemented, this water project will result in the drilling of fresh water wells, provide sanitation and hygiene training and the development of other sustainable water projects, such as, a chicken farm, that will benefit the children and families living in the Gamba District of Uganda. Total support to Uganda would be $258,900 but with matching grants Tomah and La Crosse Rotary would need to commit to $83,000. The overall mission of this collaborative effort was to raise $83,000 locally between the two Rotary clubs of La Crosse and Tomah and submit funding for District and RI matches. La Crosse Downtown committed to raising $23,000 for this project. A committee was developed with Downtown Rotarians that began meeting in the Fall of 2013. This committee developed a plan for raising funds by soliciting individual and corporate donations, grants and hosting an event that would generate the remaining funds needed to meet our obligation. The event event eventually decided upon was the Wine Into Water, an International Wine Tasting event. On January 30, 2014, the Wine Into Water event was held. This event raised awareness about the water conditions and needs of the Gamba District in Uganda and raised $24, 233.11, through donations, sponsorships, raffles, matching grants and an auction. Proceeds from this event along with a grant from the Rotary Works Foundation approximaltey $34,000 was raised by the Downtown Club to be given to the International Water Project in Uganda. Click here for more information.
KIDS COULEE - (1994)
Kids Coulee, a projec
t spearheaded by the Rotary Club, was proposed in 1993. Intended to be a 20,000 square-foot playground with a variety of equipment including slides, swings, bridges, and a sandbox, the playground was to be accessible to all children, even those with disabilities. The Rotary Club sought out not only monetary contributions but also community volunteers who would help build the playground. On September 21, 1994, community volunteers began work on the playground that was dedicated on S
ept. 25, 1994.
Kids Coulee was completely funded by donations of more than $190,000 and built by over 3,700 volunteers in 1994. Kids Coulee is a special multi-leveled playscape with a number of play structures that challenges children of all abilities and an amphitheater that is unique in the county. Each spring Rotarians have a Rotary Work Day at Kids Coulee and volunteer to spruce up Kids Coulee.
A Ocean Seesaw was added in 2012. The seesaw accommodates all children including those with disabilities. Funding from the La Crosse Community Foundation Mary Grace Sieber Fund, Rotary Works Foundation and the City of La Crosse made this possible.